My love for travel is displayed in several of my anthologies and this one is no different. After several trips to Asia, I fell in love with the Ginkgo Leaf Tree, known as the Maidenhair tree. Not only did I fall in love with the beauty of the tree and the leaves but I fell in love with the meaning of the tree.
The ginkgo's distinctive fan-shaped leaf symbolizes longevity and a more profound endurance. The Ginkgo Tree is the longest living tree. In addition to symbolizing longevity, life, and endurance, the Ginkgo Tree symbolizes strength which as a female entrepreneur and business owner hits home.
The vision for the ARY D'PO Ginkgo Leaf – After Rain Collection is to bring strength, longevity, and endurance to women who wear the collection. The pieces are designed to be worn alone as a dainty necklace or layered to make a statement.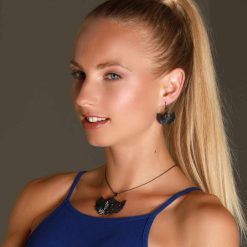 This collection is much different than most of my other collections as most of the pieces are mostly gold with the exception of the use of Pearls in a few of the designs. The Pearls were added as an accent and are known for their calming effect.
Ginko leaf is a beautifully simple form, it is, therefore, the inspiration for this collection. The ginkgo shape is transferred and sawn out of a 1mm thick silver sheet. The leaf is approximately 3.5cm by 3.5cm and fits in the palm of your hand. Furthermore, fine lines are hand-drawn onto the front surface of the ginkgo leaf, it looks more authentic as a result.